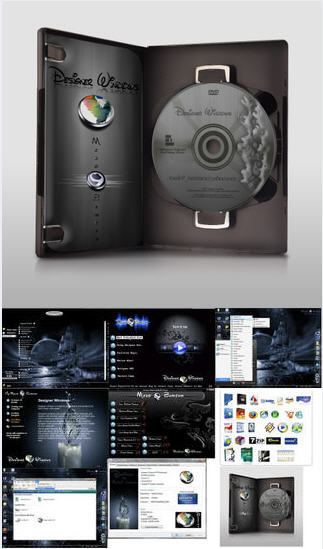 Window XP SP3 Designer 2008 multibootable-WIn XP SP3 for Designer-for slow pc Ram128- very pro
this version is actived, you can update everyday from microsoft
Min.Requirements: CPU celetron 2.8GHZ, 128mbRAM, any Graphic Card.
Password: 7zipultra
add more hotfixed
Please be patient on 15 minutes of Win Setup!!!
WGA is integrated so it is activated and ready to visit Microsoft for future updates
No serial needed (if needed for upgrade can be found on CD root)
Can be installed on any partition
Tweaked for faster performance by default. For tweaking fans there is a large collection
of additional updated tweaks in Desktop folder for optional use (Just read eveything in
folder carefully) But I think is not necessary. It is fast like it is!
[Driver Packages integrated]
SATA/RAID Support
Chipset 8.03
CPU 8.04
LAN 8.05.3
MassStorage 8.05
WLAN 8.06
USB
many software for desginer
multibootable: ghost for dos, partion magic for dos, go to DOS
http://www.hulashare.com/view.php?file=e18a74ab7c1bd0bf8e3d2e287ce2fd26
http://www.hulashare.com/view.php?file=446701726c9055d1740f05af96947cbe
http://www.hulashare.com/view.php?file=e32325fad821c7df179cad7218e8558f
http://www.hulashare.com/view.php?file=9cbc44ea5e896caf18758bde88af921e
http://www.hulashare.com/view.php?file=735b8c91f1b52140f484020daedbb92c
http://www.hulashare.com/view.php?file=99683e8b1191a048fae96a81898e8df5
http://upload.bluegy.com/show.php?f755c7e8b4b16f23a4b9e973588a13b5.rar
Credit :
http://www.freeclickdownloads.com
ติด PASSWORD ใส่
http://www.freeclickdownloads.com
Admin




จำนวนข้อความ

: 38


Join date

: 17/11/2008


Age

: 32


ที่อยู่

: หอ



เอ่อออ โหลดไม่ได้ครับ ลิงค์เสียแล้วอ่ะครับ ขอบคุณครับ



จำนวนข้อความ

: 3


Join date

: 18/09/2011




---
Permissions in this forum:
คุณ
ไม่สามารถ
พิมพ์ตอบ